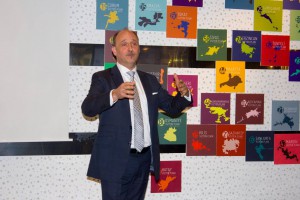 Andreas Vetr is Entrepreneur and Speaker/Trainer, a Sales-Team-Leadership Expert for Corporate Companies as well as SME's, for Workshops and large Audiences.
He developed his Expert Know-How in 30 years of international Sales, Management and Leadership activities with "first class brands" and "major corporations" in different industries like Haute Couture in Vienna, Building Industry, Construction and Manufacturing in Turkey, as well as Direct Sales & Marketing and Consultancy (EMEA) in various roles from Salesman to Manager up to General Manager, Board Member, Entrepreneur and Partner.
Due to his passion of continues self-, people- and business development, he always hired or/and grew teams and developed those teams to make them championing their objectives. Therefore he held over 5.000 interviews, 15.000 sales pitches and more than 2.000 Speeches – Seminars and Trainings to bring the people to the next level of their journey and build winning teams which deliver and overachieve objectives through his Motto "Leading by Example and Inspiration".
Andreas Vetr won the 1st National Toastmasters Speech Contest in Turkey in 2016 and he is a Speaker and Trainer certified by the John C. Maxwell Team (USA). He is also assessed and trained as a Trainer by ISG in Vienna.
Andreas engages and connects with people and truly inspires audiences in his Seminars, Workshops and Speeches not only through his experience and practical knowledge but by the way how he delivers the special tailored content.
With his 20+ years in Turkey and his international experience in different cultures, also married to a Turkish woman (happily as he says), he became cultural sensitive and understands differences and similarities.
He delivers his content in English or German Language.
SUBJECTS:
All Trainings are Tailored and "Fit to Measure" after an Objective/Goal-setting Meeting with his clients leaders (usually C-Level + HR).
Training & Speaking STYLES:
Lunch & Learns,
Mastermind Groups,
Workshops,
Seminars,
Conference Settings – Stage
MAJOR SUBJECTS are:
SALES-TEAM-LEADERSHIP